Powerful and Versatile
The PREDATOR spray rig is the top choice of professional contractors.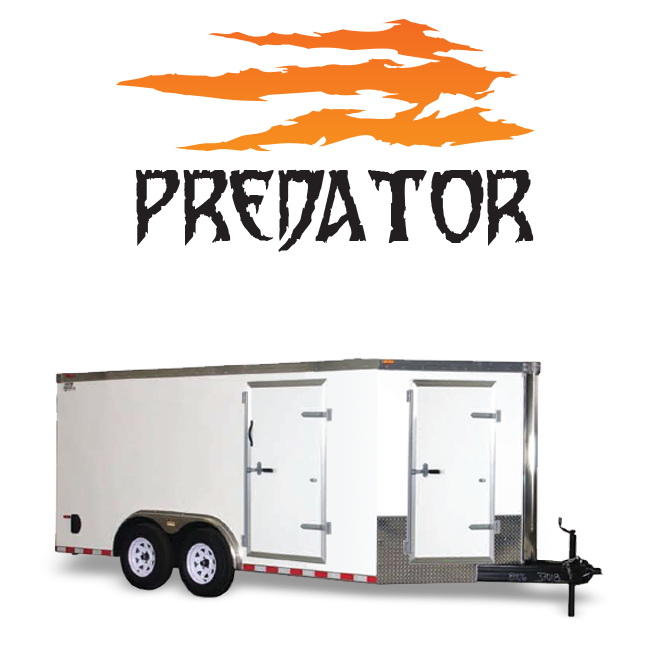 PREDATOR Spray Rig
Powerful and extremely versatile, the PREDATOR spray rig is the top choice of professional contractors. Its efficient design and effective price make the PREDATOR a great choice for new or expanding businesses.
The PREDATOR delivers turn-key function and ample size through its 18' V-Nose shell. Outfitted with a 40 kW diesel generator, 5-hp air compressor, compressed air dryer and space for six 55 gallon drums of material, the PREDATOR can deliver the all day performance demanded in today's competitive markets.
The PREDATOR also comes with your choice of Graco Reactor 3 E-30 or E-XP2 proportioner, two Graco Core E1 transfer pumps, Graco Fusion PC spray gun and up to 320' of heated hose, this rig can handle a wide range of applications including spray foam and polyurea protective coatings.
The PREDATOR comes complete with your choice of Reactor 3 E-30 or E-XP2 spray machine. Equipped with advanced material data and system diagnostics, the improved E-Series gives the operator total control.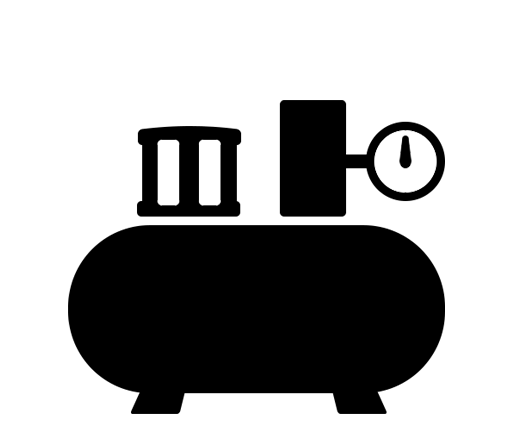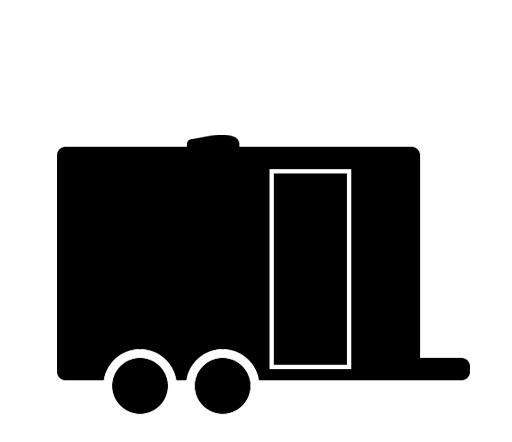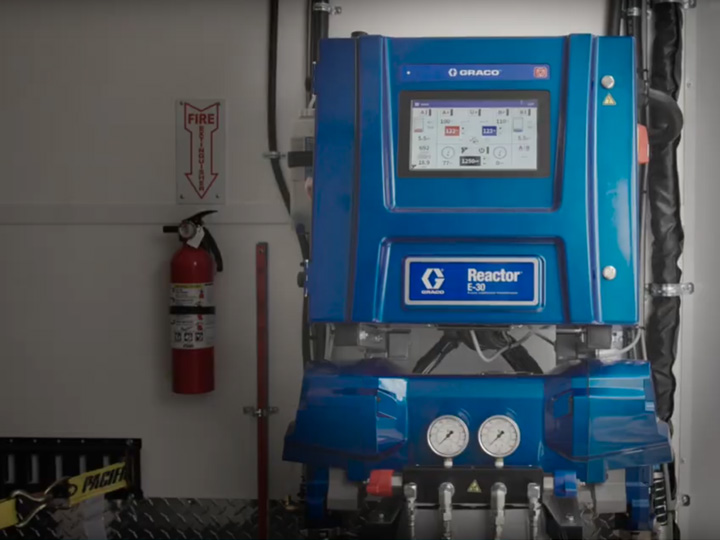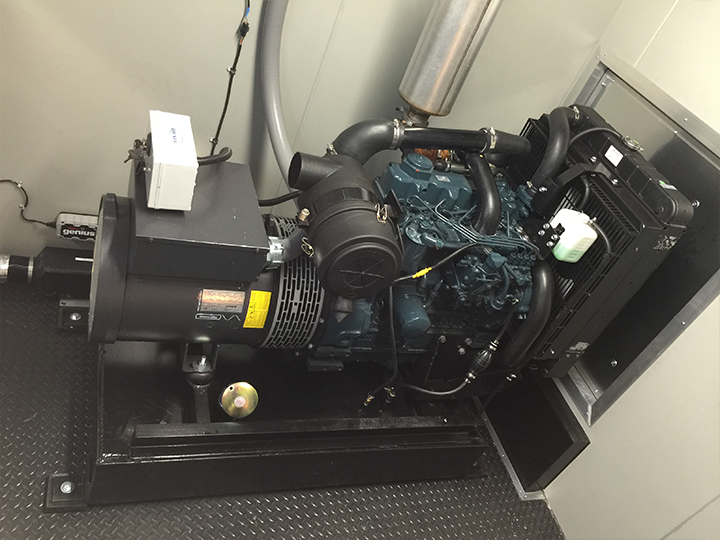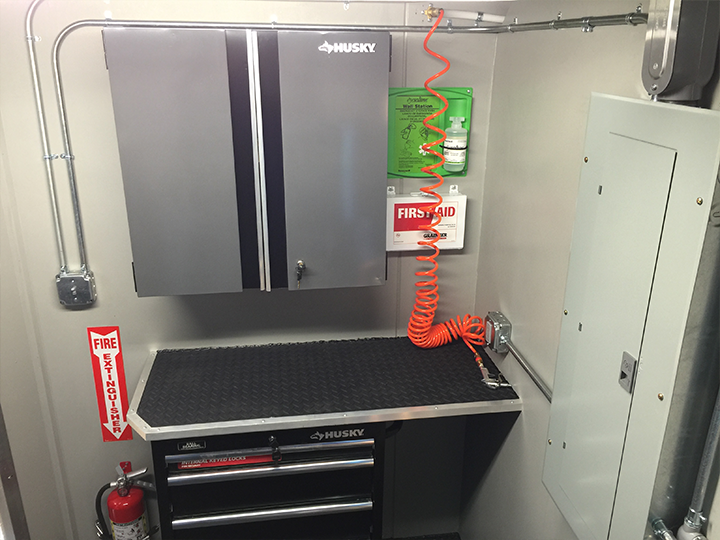 Step into the spray foam and coatings industry and step up to success with the PREDATOR spray rig from Pinnacle.
The PREDATOR spray rig is built for the serious applicator. This trailer is setup to support six 55 gallon drums of chemical and has built its reputation on reliability, longevity and quality.
The three room design allows you to maintain proper material temperatures while insuring easy access to the spray equipment and service area in this 18′ x 8′, 12,000 lb GVWR v-nose trailer.
Graco Reactor Spray Machine
40 kW Diesel Generator
5hp Electric Compressor
Compressed Air Dryer
Wall Mount Storage Cabinet
Hose Rack
E-Track and Ratchet Straps for Drums
Divider Wall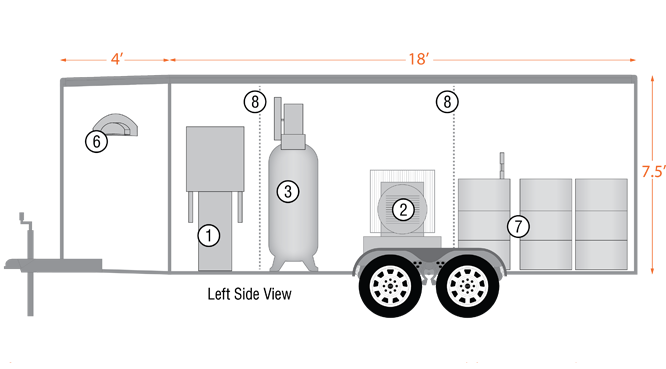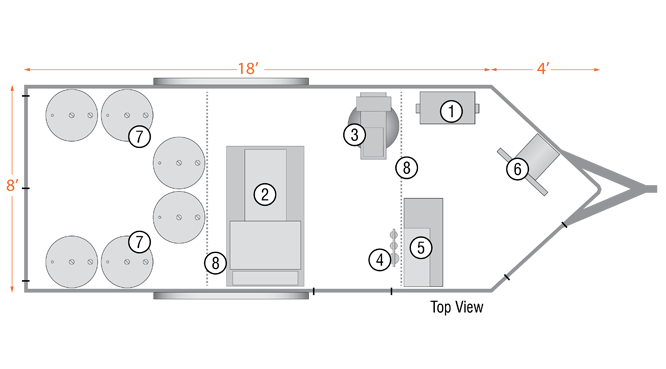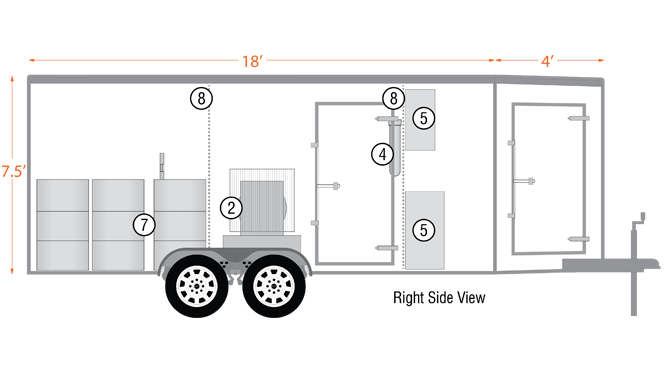 Graco Reactor 3 E-30 or E-XP2 Elite Spray Machine

1

Flow Meters verify material is applied on-ratio

2

Graco Fusion PC Spray Gun
Graco Heated Hose, Up To 300 ft.

3

Graco Heated Whip Hose, 20 ft.

3

Graco Expanding Blade Drum Mixer
Graco Core E1 Transfer Pumps
Transfer Pump Plumbing Package
Desiccant Cartridge Kit with Drum Mounts
40 kW, Three Phase Diesel Generator
Muffler, Exhaust, Fuel Cell
Dual Deep Cycle Batteries
Shore Powered Battery Tender
Shore Power Plug with 50 ft Extension Cord
Three Phase Electrical Panel and Wiring
5hp, 16 CFM, Constant Run, Compressor
Compressor Auto Drain
High Temp Refrigerated Air Dryer
Air Supply Piping
Floor Mount Storage Cabinet with Work Bench
Wall Mount Storage Cabinet
E-Track and Ratchet Straps for Drums
Hose Rack
55 Gallon Drum Dolly
Drum Wrench
Blow Gun
18 x 8 ft. Extra Height V-Nose Enclosed Trailer
12,000 GVWR, 16″ Radials, Electric Brakes
2 lb. SPF Insulation Package
Double Rear Doors, Two Side Doors
Two Closable Vents In Generator Room
Hose Door
High Efficiency Diesel Furnace, 13,600 BTU
Digital Thermostat
120V Fluorescent Lighting Package
Full Size Spare Tire
Stone Guard
3/4 HP Continuous Flow Supplied Air Pump
3/8″ 100 Foot Supplied Air Hose
Full Face Mask Supplied Air Respirator
Half Mask Respirator w/Organic Vapor Cartridges
Eyewash Station
First Aid Kit
Disposable Spray Suits
Nitrile Gloves, Box of 100
Spill Kit, 6 Gallon
10 lb. ABC Approved Fire Extinguisher
MSDS & Manual Station
1All Graco Reactors carrying the "XP" designation in the model name are capable of processing 1:1 ratio foam insulation and protective coatings. (Example: Reactor 3 E-XP2 or Reactor 2 H-XP3)
2Flow Meters – The Reactor 3 Ratio Assurance System is designed to provide ratio detection so your job is being applied on-ratio and within tolerance. (Included on Reactor elite models E-30, H-30, H-40 and H-50)
3The Xtreme-Wrap Scuff Guard is more durable and robust than typical guards, meaning it will protect and prolong the life of your hose.
Call us and get a free, no-obligation quote. Toll-free 1-800-901-0088.