Roofing Industry
Spray foam roofing systems are more energy-efficient, longer lasting, and a better value.
For a flat or commercial roof, there is no better roofing solution than a spray polyurethane foam roofing system. Roofing spray foam conforms to the roofing surface with a strong bond that provides a seamless monolithic system and contains no thermal shorts. It provides a greater insulation factor, an unsurpassed air-barrier, increased structural stability, and requires less time to install. A spray foam roofing system has an effective lifespan that can exceed 30 years and has the lowest lifecycle cost over other conventional roofing systems.
From wall-to-wall spray foam provides a seamless roof install with no mechanical fasteners, providing the building with an unsurpassed air barrier and increased thermal resistance. Spray foam also provides self-flashing around HVAC curbs, vents, and skylights, adding additional protection against moisture and air infiltration.
Compared with other conventional roofing systems, spray foam roofing is as much as 4.5 times more cost effective when comparing total lifecycle costing. It's simply more energy-efficient, longer lasting, and a better value.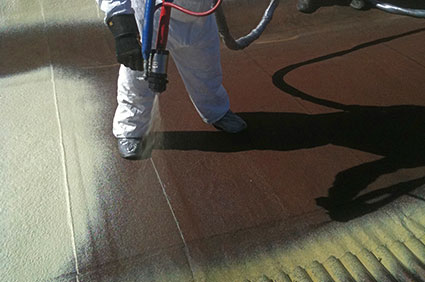 Energy-efficient saves up to 40% off of utility bills
Reduces summer solar heat gain and winter radiant heat loss
Can apply over conventional roof without tear off
Easy to apply proper slope to drain
Self-flashing
Seamless and monolithic – virtually leak proof
Unsurpassed air-barrier
High, sustainable R-value
Eliminates thermal shorts through fasteners
Wind uplift and storm resistant
Pinnacle's complete line of equipment gives you the reliable performance your company demands. Don't settle for anything less.