Indy HP-2
This package is designed for those businesses looking to spray higher volumes.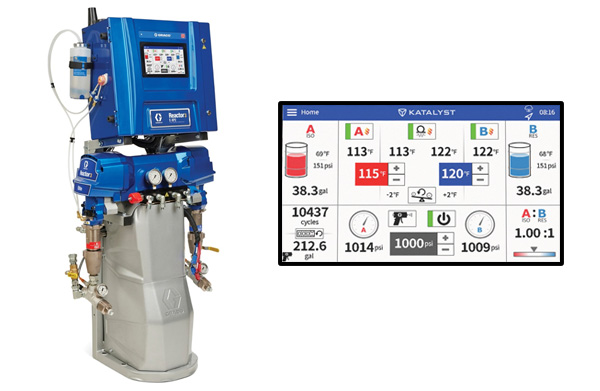 The INDY HP-2 packages come complete high quality, American-made, high pressure, heated spray equipment. Every component meets rigorous UL (Underwriter Laboratories) quality and safety standards. Our easy to use, ergonomically designed spray gun is trigger controlled to help ensure that the material (your costs) is sprayed as efficiently as possible.
Tracking project data has never been easier. With the INDY HP-2 package, you can easily create job logs for each job you do. You can track the name and date of each job, material temperatures, ambient temperatures and spray pressures – in short, everything you need to confirm that the chemical was sprayed within the recommended range.
Spray Capacity
The INDY HP-2 Package is for those who install 15 or more truck bed liners per week. This package is also for those businesses tackling large commercial lining jobs. Count on the INDY HP-2 sysyem for advanced technology in applying fast-curing polyurea coatings.
System Designed For
15 +
Truck Bedliners Per Week
On-Site Training
Receive hands-on, in-depth training. A skilled and experienced member of our team will come to your location. We then spend 3 days immersing you and your staff in the techniques, procedures and practices required to be a professional and productive installer.
System Includes
3 DAYS
On-Site Training
Marketing Materials
The most important aspect of becoming of successful truck bedliner applicator is often the most overlooked. INDY customers have access to order customer marketing literature to help subsidize your business marketing efforts and drive customers to your location.
System Includes
FULL
Marketing Package
Lease from $1,025 per month with zero down
OAC*
To learn more about the financing options available for your equipment needs, contact us at 1-800-901-0088 or request an info package. We look forward to working with your company and bringing you the very best products and service to enhance your business efforts.
* Monthly Equipment Lease Payment quotes are based on approved credit and subject to a full credit review and approval. In some cases the monthly payment may be higher than listed above due to system configuration, program requirements, the credit applicant's business or personal credit profiles or time in business. Lease rates based on 60 month term with a $10 buyout, monthly payments are subject to applicable taxes.