Indy Blast
The lowest cost entry level spray system available on the market today.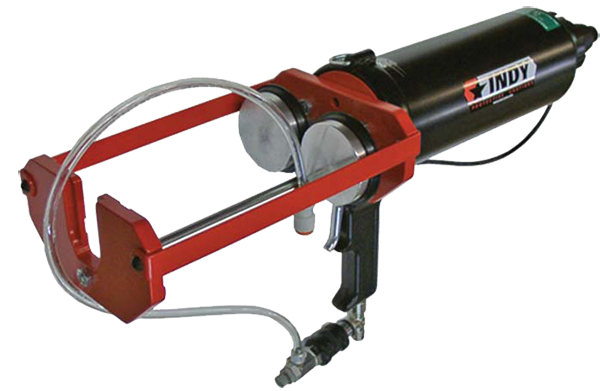 The INDY BLAST cartridge spray system is the lowest cost entry level spray system available on the market today. It allows you to apply a 100% solids, fast set polyurea hybrid material that sets in seconds and comes packaged in disposable cartridges. The cartridge system connects to your standard air compressor and requires no electricity.
With the INDY BLAST spray-on cartridge system you can start coating automotive, marine, industrial or commercial jobs today. Originally developed for the spray-on bedliner industry, the INDY BLAST 100% solids coatings are the answer to truck bedliner, rock guard or under coating applications. You can apply a professional quality 100% solids coating using our INDY BLAST Cartridge System without investing all the money for expensive equipment.
Spray Capacity
The INDY BLAST Package is our economic option allowing you to bring authentic Polyurea Hybrid sprayed-on truck bed liners "in-house" for less. Perfect for those businesses that have light demand for sprayed-on liners and repairs.
System Designed For
1 – 3
Truck Bedliners Per Week
On-Site Training
Receive hands-on, in-depth training. A skilled and experienced member of our team will come to your location. We then spend 3 days immersing you and your staff in the techniques, procedures and practices required to be a professional and productive installer.
Optional
3 DAYS
On-Site Training
Marketing Materials
The most important aspect of becoming of successful truck bedliner applicator is often the most overlooked. INDY customers have access to order customer marketing literature to help subsidize your business marketing efforts and drive customers to your location.
System Includes
FULL
Marketing Package
Lease from $99 per month with zero down
OAC*
To learn more about the financing options available for your equipment needs, contact us at 1-800-901-0088 or request an info package. We look forward to working with your company and bringing you the very best products and service to enhance your business efforts.
* Monthly Equipment Lease Payment quotes are based on approved credit and subject to a full credit review and approval. In some cases the monthly payment may be higher than listed above due to system configuration, program requirements, the credit applicant's business or personal credit profiles or time in business. Lease rates based on 60 month term with a $10 buyout, monthly payments are subject to applicable taxes.